Plate Demister - Large Contacting Areas and High Filtering Efficiency
Plate demister refers to the demister pads made of metal or plastic plates. The plate demister pads can supply large contacting area for high filtering and separating efficiency in chemical, petroleum, pharmacy and other fields. The plate demister can be made into different types for different applications, here are two main types of plate demister, just browse them and find the perfect one you need. If you need other types of demisters, just tell us and we will customize for you.
Vane Type Plate Demister
Vane type demister pad is made of several zig-zag chevron blades with or without hooks. The blades are placed regularly and fastened together to form a whole filter device. The vane demister pad can be made of stainless steel and various plastic materials. The stainless steel vane demister is corrosion and rust resistance to be used in the corrosive applications. The plastic vane demister pad is temperature resistance and lightweight, it is economical and high filtering efficiency.
The structure of plate demister pad is various. It can be smooth or hook blade. The smooth blade can supply non-fouling characters and the hook blade can supply greater filtering and separating efficiency. Additional, the blade can be divided into stream line and broken line with two or three passes.
PD-01:
Stainless steel vane type plate demister pad.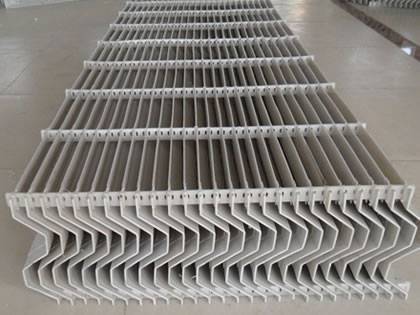 PD-02:
Plastic vane type plate demister pad.
PD-03:
Hook blade vane demister pad.
PD-04:
Smooth blade vane demister pad.
Specifications of vane demister pad
Plate spacing: 1/2", 3/4", 3/8", 1", 1-1/2", 2" and others.
Blade height: 5" or 8".
Profile depth: 1/2" - 3/8".
Blade thickness: 0.46 mm.
Structured Packing
Structured packing is a type of packing used for gas and liquid filtration applications. Except for the wire gauze structure packing, the structured packing can also be made of various materials of perforated plates. Perforated plate structured packing can be made of stainless steel, ceramic and plastic materials. And the perforated plate structured packing can be perforated into round holes or protruded holes. Except for the material and surface of the plate, the angle of the structured packing can be 30° or 45°, which is named as X type and Y type. Structured packing is widely used in the packing towers for gas and liquid foam separating, filtering and purifying.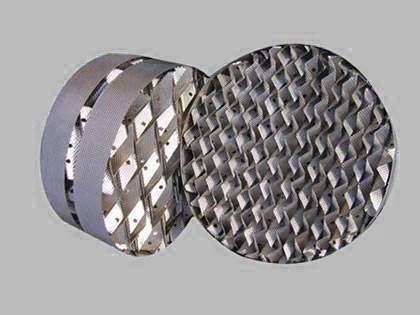 PD-05:
Stainless steel structured packing.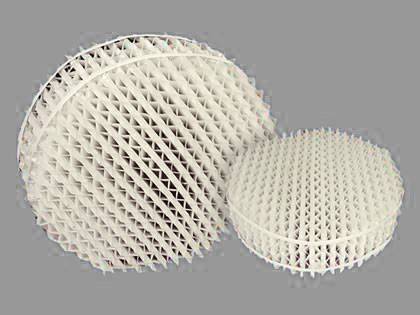 PD-06:
Plastic structured packing.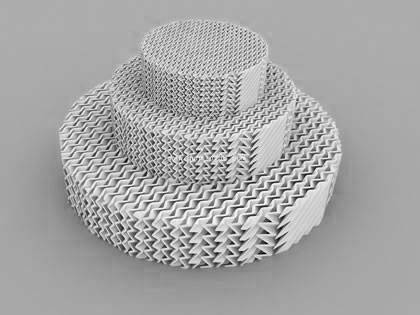 PD-07:
Ceramic structured packing.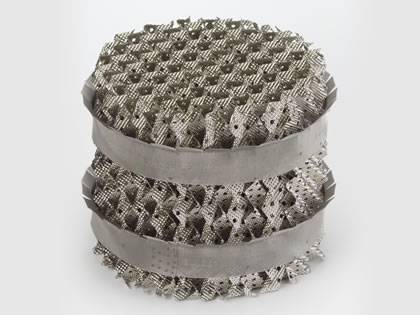 PD-08:
Round hole structured packing.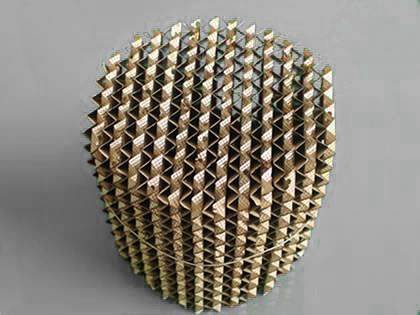 PD-09:
Protruded hole structured packing.
QUICK CONTACT
If you need to consult the price, please contact the business department by E-mail:
When you contact us, please provide your detail requirements. That will help us give you a valid quotation.